C9 Communications – Creating Connections
As a brand, we're all about creating meaningful connections through innovative IT solutions. We are the most trusted and flexible partner for all cloud-based solutions.
While it may seem like a cold industry, we're dedicated to not only giving you what you initially need, but also guiding you through the whole process.
We believe it's not just about building connections, it's also about sustaining them. With that, our brand is committed to being there for you from Day 1 onwards.
With C9 Communications, you can rely on us for:
We're here to help, anytime.
We love to go above and beyond for our customers. From go to whoa, you've got a friendly, experienced and uber-dedicated local-based consultant who's here for you to help you get the most out of your ip telephony, business nbn™, cloud services and contact center solutions.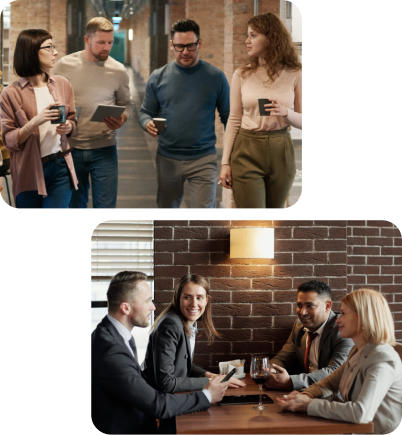 Our support doesn't end after quoting and installation—we commit to working with you as your business evolves, so you have the best ip phone systems, unlimited internet plans, and managed IT services no matter the scale nor complexity. We promise well-matched accessibility, capability and price, always.
We might be a small cloud services provider, but we're also clever. We focus on high quality, great value internet, phone and mobile services that suit Australian businesses' needs while staying at the forefront of innovation and emerging technologies.
A fresh, dynamic team, skilled in all legacy and up-to-date technologies, we've done the hard yards, so you don't have to. We love working with our customers to make sense of it all, so you know exactly what you're getting and paying for. It's our promise to you.
Using the latest technologies, we give you exactly the options you need without overselling. And we back it up with premium support every step of the way.
If we're talking about tech, we will always engage in conversation. We've dedicated years to building knowledge on this topic.
We are a very reliable source of information but also have a special way of explaining it to people.
We are chameleons. We can get along with those who know about tech, but We can also make it less intimidating for those who don't know too much.
But we are not all talk. What we know, we put into practice. we won't just introduce you to concepts, we will help you go through the process. We are very hands-on with the work that we do.
We are reliable, trustworthy, and we won't ever leave anyone hanging.
Calls made on our network
Australian businesses solution provided to
Meet The Team
Creating Connections
Jaspreet Manku
Founder & Chief Executive Officer
He is our inspiring, hands-on CEO with a clear vision and immense passion to steer our company to greater heights while preserving its core culture and ethics that sparked its success. With his entrepreneurial mindset and a genuine focus on creating long term connections, he constantly collaborates with the team to make each, and every aspect of the customer experience a positive one.
Stuart Bowers
Chief Technical Officer
He is our exceptional CTO who has built our core network. He has years of knowledge and experience working in enterprise. With his strategic mindset and zest for technology, he works relentlessly with the team to develop and deliver technology products to our clients.
Dale Horstmanshof
Customer Support Manager
He was born in South Africa, matured in Australia, and was educated in the school of hard knocks. Still surprised that with over 30 years of customer service, he still doesn't know everything… yet. "If I am still breathing it means I still have much to learn.". He is our client's favourite.
Ben Burke
IT Support
He claims to be the youngest, and greatest part of the team. He could bore you with his role: Cyber Security, IT Support, Project management, Networking, Customer Service and VoIP Technical Support But that would be boring. All you need to know is that he's awesome. He may or may not have written this.
Tejal Dave
Finance & HR Manager
She is a team player who always demonstrates a very caring approach towards the company, its employees and above all our clients. She ensures that our customer bills are always simple.
Kishore L
Developer
He is our programming guru. With deep knowledge and an abundance of experience, he loves to create programming magic for our clients.
Telco Together Foundation is the industry's foundation for collectively addressing social challenges within our increasingly connected world.
As a member of Telco Together, we have come together with 27 of Australia's most community driven telcos, who represent more than 90% of the industry.
As an industry, we've helped raise more than $6.2M towards Domestic & Family Violence, Modern Slavery and to help build resilient young Australians.
Telcos are in the unique position of having direct access to nearly every business and consumer in the country.
It's never been more important for us to engage the industry's 70,000 employees and millions of customers who can come together to drive significant social impact.
Domestic & Family
Violence
60-70% of women who are victim survivors of domestic and family violence are working so this is an issue of direct relevance to our more than 75,000 employees.
It's especially relevant to the nature of our industry too. Mobile phones can be a lifeline for someone experiencing
domestic and family violence but they can also be a tool for control and abuse.
1 in 6 women (1.6 million women) and 1 in 16 men (548,000 men) in Australia have experienced physical or sexual violence from a current or previous cohabiting partner.2
We are working with Telco together to respond effectively to our customers and employees who are victims / survivors of domestic and family violence.
The sheer size of our industry and the local and international supply chains in which we operate, opens us up to a wide range of risks associated with human rights and modern slavery.
Two of Australia's biggest trading partners, China & India, account for nearly half the world's modern slaves.
In Australia, alone, there are an estimated 15,000 people living in conditions of modern slavery.
Telco Together has helped us understand the relevance of modern slavery to the industry and how to manage and mitigate the risk of modern slavery in their day to day operations and extended supply chains.
Resilience in young Australians
Australia's youth underutilisation rate is estimated to have reached more than 60% (May 2020), levels not seen since The Great Depression (FYA 2020).
It's increasingly difficult for students to find meaningful workand the level of uncertainty young people have for their future is a concern.
A national survey of 2,208 young people aged 15-25 and 2,164 parents of young people aged 12-25 conducted at the height of the COVID-19 lockdown in Australia showed 40% of young respondents felt that the pandemic had impacted their confidence to achieve future goals.
1 in 4 young people in Australia is living with a mental health difficulty. But there's an even bigger problem, 70% of those who need help don't get it.
We're are working with Telco Together to build resilience in young Australians by supporting a range of education and engagement programs designed to promote good mental health, a strong sense of identity and connection beyond connectivity.
27 Telcos
We are one of 27 of Australia's most community-driven telcos, representing more than 90% of the Telco Industry.
More than 20K Donors
We help inspire more than 20,000 regular monthly donors to give back.
3 Causes
It's never been more important to address the changing role of technology in our communities. It's through this lens, that we're helping to support victims of Domestic & Family Violence, reducing instances of Modern Slavery and building Resilient Young Australians.
More than $6.2M
Together, we have raised more than $6.2M towards these complex social challenges, either as distributions to community partners or through the development of our own programs.
Come join us and make a difference. Give us a call today.





C9 has provided us with great product techology, IT consultation and advice that has lifted our telecommunications and network capabilities beyond our expectations. We continue to experience great service and support knowing that we are valued and important as customers of C9.